Dr. McNeill has a Doctorate in Naturopathic Medicine from Bastyr University and a Bachelor of Science degree in Nutrition from Bastyr University. Dr. McNeill's naturopathic education taught her the same basic sciences studied by MD candidates, but also provided her with the knowledge of holistic and nontoxic approaches to therapy, with a strong emphasis on disease prevention and optimizing wellness.
Dr. Leah McNeill has a family practice which focuses on providing personalized, quality care for you and your family's health and well-being. She uses a functional medicine approach to healing which means looking beyond the diagnosis and finding the cause of your illness. She strives to fully understand your health concerns, diagnose the underlying problems, and develop an individualized treatment plan that will improve your condition and quality of life.
As a naturopathic physician, Dr. McNeill believes that the human body has a very strong ability to prevent illness and heal itself when provided with the right nourishment and environment. Dr. McNeill uses nutrition, vitamin and mineral therapies, herbal therapies, natural hormone replacement, and integrative medicine in her practice. She also emphasizes the importance of a proper diet, exercise and sleep. By restoring our basic needs of food, water, exercise and rest, a lot of disorders and diseases can be corrected and eliminated.
Dr. Leah is a preferred provider with most major insurance companies. Please inquire with your insurance plan for naturopathic benefits.
For more information, visit Dr. Leah's website at: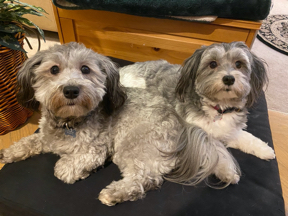 Cody & Luna - Dr. Leah's therapy dogs